Welcome to our website CarofDog.com here you get the best information related to dogs. In this article, we are sharing Knowledge on Teacup dogs breed, Types, Price, Best Information 2022. We hope you like this article.
You can also read these articles:
Teacup Dogs Breed
Teacup dogs are extremely popular pets because these micro dogs look like puppies forever. It's no wonder they can fetch thousands of dollars apiece. In general, teacups are markedly smaller than their breed standard and are not recognized by the American Kennel Club. Ethics come into question with these dogs since, in most cases, they are the runts or weakest of their litter and then are usually bred with other smaller or weaker dogs.
What is a teacup dog?
"Most breeders consider teacup dogs less than 4 pounds and standing less than 17 inches tall. Given these standards, there are six true teacup breeds; teacup Chihuahua, teacup Maltese, teacup poodle, teacup Pomeranian, teacup Yorkie, and teacup Shih Tzu," explains Dr Abens. "We do see teacup pups that seem to come from somewhat responsible breeders," adds Dr McCarthy. "These so-called 'hobby breeders' do it because they love the breed and do a reasonable amount of genetic testing and follow up with owners to see how the pups do." Unfortunately, the majority of teacup dogs come from the unscrupulous breeders of puppy mills.
Teacup dog
Breed Characteristics
As the smallest dogs of their litter, teacup dogs often have health issues. Some were rejected by their mothers, and for some reason, they did not get as much nutrition while in the womb and after birth. At full size, some may only weigh 2 to 5 pounds. At such a small size, these dogs can have several health issues, including problems with skeletal and immune systems. These dogs are fragile and can easily die from a fall or are hard to see and easy to crush or step on. Also, for some breeds, their life expectancy is considerably shorter—some only live about half as long as the larger-sized variety.
Children need supervision around teacup breeds, which are prone to broken bones. Also, these little dogs need protection from predatory animals like owls and other birds of prey. These breeds may also have problems with housetraining since they have very small bladders and bowels. They will need many small meals per day to prevent low blood sugar (hypoglycemia) and frequent outdoor bathroom breaks.
Perceived Advantages of Owning a Teacup Dog
Having a dog that fits in a pocket has potential advantages. You can take them anywhere, they get lots of attention from friends and family and—when they're healthy—their small statures mean they don't need large quantities of food and/or preventative medications. This can keep yearly costs low.
Small dogs are also appealing to pet owners who live in facilities with pet size restrictions or can only provide short walks or other forms of exercise.
But doctors say the breeding history of teacup dogs can make these tiny canines more predisposed to certain health issues.
Health Risks for Teacup Dogs
Doctors say common health issues for teacup dogs include hypoglycemia, heart defects, collapsing trachea, seizures, respiratory problems, digestive problems, and blindness.
The breeding practices can also lead to an increased risk for liver shunts, says Meeks. Liver shunts are often congenital birth defects in dogs that affect the liver's ability to flush out toxins. Treatment for liver shunts can cost up to $6,000, and some types of shunts don't respond well to therapy regardless of the cost.
Many small dogs are also predisposed to developing dental and gum issues, says Mahaney. Their baby teeth don't always fall out on their own, and it's not uncommon for doctors to remove all the baby teeth when the animal is spayed or neutered.
Another size-related health problem is patella luxation, or sliding kneecap, which can affect a teacup dog's ability to walk. The condition also often makes the animal more prone to arthritis.
In addition, teacup dogs may also be predisposed to developing hydrocephalus, also known as "water on the brain," says Mahaney.
"When you breed for the way the dog looks instead of for the healthiest genetic stock, health problems emerge," he adds.
Teacup dog lifespan
15 years you did your research correctly to find your teacup puppy, you can find yourself with a companion for up to 15 years. Smaller dogs do tend to live longer than larger breeds, and if given the proper treatment, your teacup puppy can lead a long, fulfilling life as well.
200 Teacup dog names
Teacup Dog Names for Boys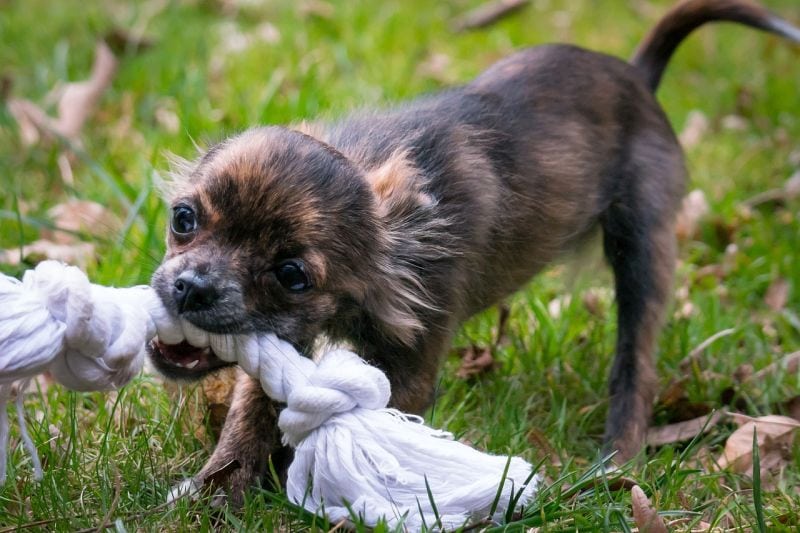 If you have a baby-sized boy at home, here are some perfect tiny dog names that will suit him well.
Chico
Bob
Ford
Jay
Moe
Kit
Peanut
Buddy
Tim
Hopper
Atlas
Oliver
Toby
Atom
Wolfie
Jim
Pongo
Mister
Remy
Gustavo
Mac
Archie
Goose
Doug
Elvis
Pumba
Tucker
Twiglet
Leprechaun
Maximus
Beau
Rudy
Joey
Tater Tot
Bing
Waldo
Alex
Imp
Cooper
Olaf
Huckleberry
Jax
Otto
Rex
Homer
Buster
Treasure
Waffles
Captain
Fabio
Nacho
Charmer
Tadpole
Lou
Twig
Martin
Bo
Yoshi
Baby
Pepper
Zibby
Pickle
Pluto
Bingo
Shorty
Betsy
Puddles
Roy
Wasp
Basil
Gus
Harley
Benji
Almond
Samson
Igor
David
Mustard
Garfield
Tom
Blue
Kai
Leo
Sprout
Roo
Uno
Winnie
Tonto
Otis
Percy
Tate
Felix
Raisin
Max
Clive
Fox
Eli
Jasper
Frank
Jack
Mel
Oscar
Freckles
Logan
Bear
Teacup Dogs Names for Girls
Do you have a small sweetheart? Check out some of these fitting names for your diminutive darling below.
Chica
Minnie
Cherry
Lottie
Tillie
Angel
Cutie
Doris
Pumpkin
Gidget
Gypsy
Tessa
Clementine
Koda
Delilah
Sunny
Ivy
Halo
Teacup
Aurora
Kiki
Bluebell
Jellybean
Myrtle
Pancakes
Frida
Hattie
Delia
Sweet Tea
Fergie
Coco
Jojo
Chanel
Wendy
Zuzu
Sadie
Petunia
Tootsie
Gigi
Charlotte
Gracie
Marley
Boop
River
Polly
Ruby
Mia
Duchess
Elsa
Jolene
Persimmon
Dakota
Callie
Sassy
Prim
Robin
Willow
Ria
Matilda
Kiwi
Bonnie
Spicy
Darling
Bailey
Locket
Molly
Allie
Nessie
Maisie
Flo
Carly
Fairy
Chai
Poppy
Joy
Fifi
Quin
Pixie
Luna
Daisy
Apple
Maggie
Mimi
Lucille
Abby
Ellie
Birdie
Dixie
Honey
Barbie
Millie
Deb
Goldie
Nala
Pearl
Dot
Queen
Peach
Sugar
Missy
Periwinkle
Pat
Ladybug
Rosie
Demi
Olivia
May
Cookie
Sweetie
Tia
Peggy
Midge
Thumbelina
Dora
Pippa
Pony
Funny and Ironic Teacup Dogs Names
If your pooch has a small body but a huge personality, one of these hilarious names is sure to solidify his character.
Hulk
Goliath
Tank
Rebel
Giant
Zeus
Clifford
Jumbo
Cricket
Squeak
Bonbon
Bruiser
Chocolate Chip
Diesel
Spike
Squirrel
Feisty
Dumpling
King
Dodo
T-Bone
Hot Dog
Chicken
Grumpy
Diva
Tic-Tac
Tiger
Monster
Chaos
Sparky
Bitsy
Biggie
Rambo
Bacon
Tyson
Apollo
Oreo
Xena
Chunkie
Popcorn
Moose
Taco
Godzilla
Hagrid
Meatball
Bigfoot
Titan
Eggroll
Kitty
Nugget
Yeti
Texas
Pinto
Fig Newton
Sweet and Adorable Teacup Dogs Names
Sweethearts come in packages of all sizes! Here are some downright adorable tiny dog names for your canine cutie pie.
Munchkin
Pebbles
Hobbit
Bean
Shorty
Sushi
Button
Sprinkle
Blueberry
Hiccup
Marshmallow
Teddy
Tiny
Butterball
Squishy
Bubbles
Socks
Ping Pong
Doodle
Biscuit
Sweetie
Bitty
Mouse
Runt
Squirt
Bee
Snickers
Sweet Pea
Bestie
Boba
Poptart
Bug
Pipsqueak
Boots
Teacup Dogs Names in Other Languages
If you want to honor a certain culture or if your fun-sized friend has a rich ancestry, here are a couple of tiny dog names in other languages.
Petit (French, meaning small)
Chingu (Korean, meaning friend)
Pequena (Spanish, meaning small)
Lille (Danish, meaning small)
Pascal (French, meaning mischievous)
Hana (Korean, meaning one)
Bambino (Italian, meaning baby)
Lucio (Italian, meaning light)
Delgado (Spanish, meaning skinny)
Gretchen (German, meaning pearl)
Amie (French, meaning friend)
Arvin (German, meaning friend to all)
Leon (French, meaning lion)
Corrado (Italian, meaning bold)
Jwi (Korean, meaning mouse)
Anka (German, meaning purse)
Baffi (Italian, meaning mustache)
Marta (German, meaning lady)
Pieni (Finnish, meaning small)
Bajo (Spanish, meaning short)
Fleur (French, meaning flower)
Ursula (German, meaning little female bear)
Catarina (Italian, meaning pure)
Klein (German and Dutch, meaning small)
Jakda (Korean, meaning little)
Alena (German, meaning small)
Ping (Chinese, meaning cookie)
Tito (Italian, meaning giant)
Piccolo (Italian, meaning small)
Dan (Korean, meaning sweet)
Cool Names for Teacups Dogs
Cool canines deserve a name that captures their pawfect personalities. Here are some of our favorite names for tiny dogs that have some extra spunk in their step.
Scamp
Rascal
Nano
Bandit
Fang
Gizmo
Jet
Clover
Mojo
Muse
Yogi
Aspen
Calamity
Bolt
Cleo
Bullet
Nymph
Elf
Ziggy
Katniss
Comet
Scout
Dusty
Spud
Talon
Ace
Echo
Katniss
Blaze
Micro
Neutron
Gadget
Electra
Racer
Dice
Flash
Colt
Paws
Ozzy
Famous Teacup Dog Names
Perhaps you'd like to name your tiny pooch after a famous figure. Check out these names inspired by your favorite characters, historical figures, and celebrities.
Tiny Tim
Pewee
Chewbacca
Napoleon
Yoda
Mickey Mouse
Nemo
Mike Wazowski
Pippi Longstocking
Bamm-Bamm
Slinky
Shrek
Piglet
Scooby
Mr. Peanut
Oompa-Loompa
Smurf
Ewok
Scuttle
Snoopy
Wookie
Betty Boop
Dolly Parton
Tom Thumb
Prince
Bruce Lee
Dobby
Toto
Bob Marley
Aristotle
Teacup dog house Photos
Teacup dog carrier purse Photos
Teacup dog clothes Photos
Why teacup dogs small?
Teacup puppies are becoming a popular fad, but what many do not know is that "teacup puppies" are very often simply underdeveloped puppies. They are bred in order to create the smallest dog possible. Because the mother is so small, she can only give birth to a few puppies, and there are often birth complications.
Do teacup dogs grow big?
Teacup dogs may way as little as two pounds, and measure fewer than 17 inches when fully grown. What's more, "toy" breeds include any dogs that weigh less than 15 pounds, so teacup dogs can be considered part of the "toy"
How long do teacup puppies live?
If you did your research correctly to find your teacup puppy, you can find yourself with a companion for up to 15 years. Smaller dogs do tend to live longer than larger breeds, and if given the proper treatment, your teacup puppy can lead a long, fulfilling life as well.
Do teacup dogs grow big?
Teacup dogs may way as little as two pounds, and measure fewer than 17 inches when fully grown. What's more, "toy" breeds include any dogs that weigh less than 15 pounds, so teacup dogs can be considered part of the "toy" classification, too.
Why are teacup puppies so expensive?
Why are Our puppies so expensive? … It has taken years of breeding and downsizing of parents to produce the "teacup puppy". There are a lot of sacrifices that go into breeding tiny puppies. They require around the clock care for the next 3 months and for the extra tinies even longer.
Are teacup dogs natural?
Teacup dogs can naturally occur as "runts of the litter," but more often they're the product of intentionally breeding two undersized dogs. Because the mother dog is so small, she can only whelp a couple of puppies at most and there's a greatly increased chance of complications
Are our teacup puppies hard to take care of?
In some ways, you care for teacup puppies the same way you would care for any dog. … However, due to their small size, teacup puppies are prone to health problems caused by fragile bones and these health problems can quickly become life-threatening emergencies.